Welcome to Dreadmire Swamp!
The wiki about the Dungeons & Dragons world "Dreadmire" that
anyone can edit
124 articles since April 5, 2009

Dreadmire is a lengthy, detailed guidebook to a large swamp setting. The book includes chapters with background material not only for the giant swamp, but surrounding mountains, deserts, plains, hills, marshes, lakes, oceans, and mud flats -- including detailed encounter tables, spells, character classes and magic items indigenous to each area. The book provides a launching point for many types of campaigns, not just swamp adventures, although the wetland is its primary focus. The author used this phrase to describe the book:
"Think of Dreadmire as the Atchafalaya Swamp meets Lord of the Rings, with Cajun halflings, undead mosquitoes, weregators, giant cockroaches, fungus demons, man-eating plants, slime dragons, cannibal elves, sunken ruins, mud dwarves, dark water, and evil trees thrown into the mix."
| | |
| --- | --- |
| Main Articles | Monsters & Magic |
Helping Out
To write a new article, just enter the article title in the box below.
Not sure where to start?
Adding content
Talk and more...
Check out the community portal to see what the community is working on, to give feedback or just to say hi.
Featured Article: Anthroach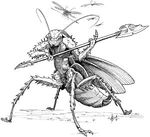 These vile creatures primarily roam the deep Backswamp where they scavenge on carrion, plants, fungi, oozes, and even roots in underground ruins. Anthroaches thrive in areas of filth and decay, striving to hasten natural decomposition. These disgusting insectoids pollute wherever they roam with the stench of despair, disgusting their foes and driving all from their habitat...
Featured Image: Dreadmire Cover