Dreadmire[1]. (ISBN 0977338339) is a campaign setting for the Dungeons & Dragons role-playing game, printed by publisher Spellbinder Games, and created by author, game designer and publisher Randy Richards. The book used the D20 System/3.0 edition of the rules.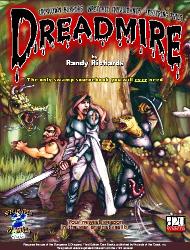 The author used this phrase to describe the book:
"Think of Dreadmire as the Atchafalaya Swamp meets Lord of the Rings, with Cajun halflings, undead mosquitoes, weregators, giant cockroaches, fungus demons, man-eating plants, slime dragons, cannibal elves, sunken ruins, mud dwarves, dark water, and evil trees thrown into the mix."
Dreadmire is a guidebook to a large swamp setting that forms the basis of a campaign. The book includes chapters not only with background material for the swamp but detailed encounter tables, new spells, character classes and magic items.
The goal of the book is to provide a setting for which many adventures can be played out, not just a book on how to run a swamp adventure (which it is, as well). This is why a number of locations are noted, but not detailed within the book, so the GM can have an idea of how to develop more involved campaigns.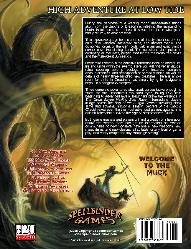 Factions
Many fantasy races populate Dreadmire, in the same vein as J.R.R. Tolkien's Middle-earth. However, the typical races were adapted to Dreadmire's amphibious wetland setting.
Deities
The following are fictional deities in the Dreadmire campaign setting.
Classes
Dreadmire contained an unprecedented amount of new Character classes, 18 in all.
While some of these classes had some balance issues, most were fine within the context of this setting.
Adventures
There are three adventures contained within the book. One serves as an introduction to the setting and the others two offer more advanced campaign-style play.
Animals & Plants
One of the unique features of Dreadmire was its particular attention to its List of fantasy animals, fantasy plants, and adapting real-world animal and plant abilities to monsters.

Fantasy Animals & Animal Creatures
Fantasy Plants & Plant Creatures
History
In 2002 there was a dispute between Necromancer Games, who was scheduled to publish Dreadmire, and the author Randy Richards[2]. The author said, "There were some false starts and delays before Dreadmire came to print. First I submitted it to Necromancer, but we had creative differences and parted ways. Later... I was contacted by Spellbinder Games. They gave me a lot of control over the project. After my other experiences that was very important to me.'"
Dreadmire was unique in that it was the first D20 book to place an entire campaign in a swamp setting. It also contained nearly 220,000 words, more than any other D20 System book as of its printing date. With 264 monsters, 124 spells, 136 magic items, 49 weapons, 18 classes, 19 deities, 37 factions, 47 mysteries, and 266 illustrations, Dreadmire had more content than any other 224-page Dungeons & Dragons book ever published up to that point.
Dreadmire was distributed in the U.S. through Alliance Games and in Europe via Esdevium Games Ltd., but is now out of print. Copies are sometimes available on eBay and Amazon.com.
Book Reviews
External Links
References