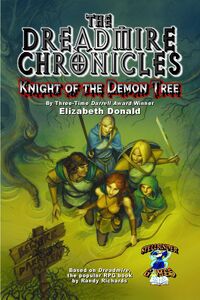 "BEWARE DARK POLLEN" read the halfling, staring at a rotting wooden sign. Alesia and the Knights knew they has passed through the sinking forest, and were now in Dreadmire. The paladin said a quick prayer, before they silently moved forward into the Perdition...
The Dreadmire Chronicles: Knight of the Demon Tree (ISBN 9781432744656) is based in the campaign world of the popular Dreadmire role-playing game accessory. Three-time Darrell Award winner, author Elizabeth Donald, takes its elaborate characters on a daring journey through the swamp:
Kancethedrus, the clumsy paladin; Alesia, a voluptuous red-haired Creep; Angiss, the wise halfling prophet; Wynter, a lost elven druid; her lover Tam, a Moor Knight gone rogue; and the dysfunctional elven wizard, Salia; all on a quest to destroy the legacy of the mysterious Witch Hammer. Harrowed by unspeakable dead things and a myriad of strange swamp monsters, an unwitting group of adventurers attempts to save the sinking forest they fearfully call, Dreadmire.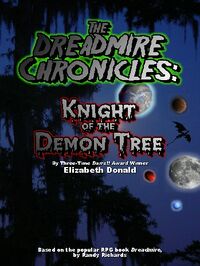 Community content is available under
CC-BY-SA
unless otherwise noted.