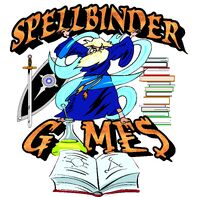 Spellbinder Games is a Louisiana-based publishing company that produces Dungeons & Dragons game books and related fantasy novels.
Spellbinder's game book slogan is, "Your newest weapon in the war against reality'."
History
Spellbinder Games emerged from Spellbinder Books, a book seller and publisher which produced a trilogy of homebrew fantasy fiction novels in the 1980s -- The Persnackety Dragon, The Dimadon Lantern, and My Magical Maguffin, as well as a coloring book called Fantasmagoria -- which were never distributed professionally. Along with the Spellbinder Books store, all original records of the books were lost to Hurricane Katrina in 2005.
In the spring of 2005, Apotheosis Publishing purchased Spellbinder Books, and a games division, Spellbinder Games, was launched. Thanks to emergency relocation into an empty uptown New Orleans rental property, the company was able to publish its first RPG supplement, Dreadmire on December 23 of that year[1], which was released in February 2006. Once distribution began, Spellbinder Games moved from its temporary New Orleans property and relocated to Baton Rouge, Louisiana in early 2006. In mid 2007, Apotheosis Publishing sold Spellbinder Games to a consortium of authors, which included Randy Richards, for an undisclosed sum.
Products
Dreadmire, a d20 book written by Randy Richards, and published under Wizards of the Coast's 3rd Edition Open Gaming License (OGL).
The Dreadmire Chronicles is a series of books, the first of which was published in July 2009 under the title "Knight of the Demon Tree", written by Elizabeth Donald.
A Dreadmire Adventures supplement was put on hold due to the introduction of 4th Edition D&D, and is purpoted to be released at a later date under the OGL.
External links
References